Oprah's Bombardier BD-700 Global Express jet
- the largest to ever land in Fairfield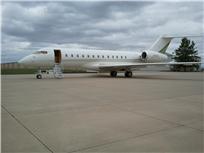 This sleek jet is owned by Harpo Inc, which is media mogul Oprah Winfrey's production company. According to a thread on the Airliners.net forum, Ms Winfrey chartered four airliners from American Airlines (one of her sponsors) to bring 1,000 of her employees to Mau'i where she gave them a week's vacation there.



http://www.youtube.com/watch?v=JSYf-ogMuME
$50million+ Bombardier BD-700 "Global Express"