Maharishi on the Merv Griffin Show
April 1975, late autumn 1975, and 1977
Merv Griffin Theater, 1555 Vine Street, Hollywood, California
This broadcast resulted in the largest wave of people learning TM in history.


This is obviously (except to some attorneys) a fan site and NOT an approved official TM site. For that, please go to www.TM.org
Merv is a meditator himself, and brought famous meditating guests:
Clint Eastwood
Actor - had recently completed The Eiger Sanction (1975), and was beginning The Outlaw Josey Wales (1976)

2
Mary Tyler Moore
Actress - one of her rare TV interviews
2
Congressman Richard Nolan (Minnesota)
Congressman
2
Dr. Bernard Glueck
Medical scientist
2
| | | |
| --- | --- | --- |
| | Doug Henning | 3 |
| | Burt Reynolds | 3 |
---
Photos from the Shows

MERV on marquee

Merv tells Maharishi that he admires his work

Maharishi Mahesh Yogi

Merv practices Transcendental Meditation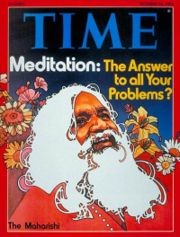 Maharishi was featured on the cover of TIME magazine October 1975
Click for transcript
Music and Media from Maharishi's Merv Griffin Show
It was customary for a guest on Merv Griffin to be welcomed with a song related to his or her career.
Maharishi was introduced to music from the Beatles' Magical Mystery Tour

Fool on the hill. Merv Griffin was very respectful and supportive of Maharishi, so no slight was intended. This music was an allusion to the visits of John, Paul, George, and Ringo to Maharishi's ahsram in India during the 1960's.
Clint Eastwood was introduced with the music from his movie Play Misty for Me. Misty is a song by Errol Garner.

It was Clint Eastwood who introduced Transcendental Meditation to Merv Griffin, his tennis buddy.

Clint had just completed filming of The Eiger Sanction, when he was on Merv Griffin. In 1975, he was the top male actor at the time, as measured by box office production revenue. He was in the process of filming The Outlaw Jose Wales.

Mary Tyler Moore was in her Emmy Award winning sitcom The Mary Tyler Moore Show and was welcomed with the Mary Theme.

Joe Namath was mentioned by Merv Griffin as "a famous meditator...and football player"
Merv Griffin
40 "Most Interesting" People of Our Time


Includes the voice of Donald Duck but does not include Maharishi, Clint Eastwood, Mary Tyler Moore, Burt Reynolds, and others?

1) Ingrid Bergman
2) Richard Burton
3) Tom Cruise
4) John Wayne
5) Sophia Loren
6) Orson Welles
7) David Niven
8) Grace Kelly
9) Joan Collins
10) Sammy Davis Jr.
11) Janet Leigh
12) Lee Marvin
13) Jane Fonda
14) Tom Hanks
15) Arnold Schwarzenegger
16) Roy Rogers
17) Michael Caine
18) Christopher Reeve
19) Denzel Washington
20) Jack Benny
21) George Carlin
22) Jerry Seinfeld
23) Jackie Mason
24) Phyllis Diller
25) Don Rickles
26) George Burns
27) Richard Pryor
28) Jay Leno
29) Carl Reiner
30) Totie Fields
31) Monti Rock III
32) Billy Crystal
33) Danny DeVito
34) Tony Danza
35) Clarence Nash (Voice of Donald Duck)
36) Barbara Walters
37) Walter Cronkite
38) Rose F. Kennedy
39) Robert F. Kennedy
40) Dr. Martin Luther King, Jr. 41) Harry Belafonte
42) Gerald Ford
43) Ronald Reagan
44) Jimmy Carter
45) Richard Nixon
Another popular TV talk show host informs the public about Transcendental Meditation
Oprah Winfrey

Note: this is not an endorsement by Oprah.
---
Donated by: ColumbiaInternet.com